Basel CC VS Geneva CC
4th September 2016, Geneva
Basel CC won the toss and elected to bowl first
Geneva CC: 199 (34.2/35)
Basel CC: 204/7 (29.2/35)
Match summary:
Basel Cricket Club were greeted in Geneva by warm sunshine and a promise of a hot day. Shortly before play began, there was still plenty of dew on the otherwise perfect looking astro wicket and outfield so Basel decided to put Geneva in to bat after Zaheer won yet another toss.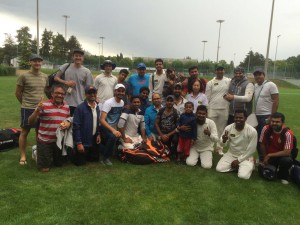 A hostile and accurate opening bowling spell from both ends by Jack and Pramod ensured that scoring runs early on was made difficult for the opening Geneva batsmen. But they stuck around and to Basels frustration, no wicket had fallen after the first 10 overs as GICC approached the 50 mark. However, sharp fielding and the constant pressure eventually lead to confusion and Basel cashed in on a runout chance thanks to Shabirs accurate throw in the 12th over. Great bowling continued from all of BCC bowlers, spin as well as pace, that was accurate and well controlled and thanks to the slow outfield and perfect field placements ensured the hosts couldnt make maximum use of the small boundaries. The wickets fell at a constant interval and were shared amongst all of the Basel bowlers, and only the toughest of chances were put down as a consistent and tidy effort in the field ensured GICC were all out in the 35th over with their total on 199.
Setting Basel 200 to get off 35 overs at exactly 5.714 runs per over required. A rate that BCC fancied themselves to manage with the small boundaries and especially with the ferocious hitting ability in the line up with the likes of Zaheer, Shabir, Manjinder and Jack.
However, Geneva were not without sting or intent, and a magical first few overs from their opening bowling pair had Basel on the back foot right after the lunch break. Zaheer was caught at slip and Rajesh behind, both without troubling the scorers. Vishal was soon to follow, again from a very good away swinging delivery and Basel were 30/3. A short ease of pressure thanks to some wayward bowling allowed the batting side to settle somewhat and the score managed to reach 70/4 and then 100/5 at the 15 over mark as both Julian and Jack were removed before drinks. But the believe was there and so was the ability, even though Shabir fell straight after cracking the first ball for 4 and the score being on 104/6. Pramod and Manjinder took control from ball 1 of their partnership and a hailstorm of 6s and 4s took the last wind out of Genevas sails. Pramond was unlucky not to go on but his score of 28 off 22 and his 40 run partnership with Manji steered the Basel team towards the finish line. Natu supported Manjinder perfectly as the true striker of the day took centre stage, Manjinder scoring an unbeaten 62 off just 32 balls, with 5 6s and 6 4s! And not through the line slogs but true and elegant cricket shots! It was a delight to watch and made the drive down south absolutely worthwhile!
So Basel polishing off the 200 runs in just 29.2 overs going at a calm and collected rate of 6.956 runs per over. A big applause to all the players for their ability and control with the ball, support and encouragement in the field and maturity and calm nerves with the bat!
Julian